JOB & CAREER FAIR 2018
WHEN: WED, APRIL 18 | 10 AM TO 1 PM
WHERE: MONTEREY PENINSULA COLLEGE (Student Center)
MPC will host over 50 employers locally and from the Bay Area to meet and hire Monterey Peninsula students! Students will bring their resumes, dress professionally, and be ready for an interview! Employers will promote their job opportunities. Whether you are an employer looking to reserve your table or a professional looking for a job, don't miss this event.

This event will be held in the Dining Area: 201 9th St, Marina, CA 93933. For more information and participating employers registration, download the flyer below.
Job Fair Registration Flyer
Infrastructure Summit
DATE CHANGE: APR 30
7:30 AM to 5:00 PM
MCBC's Infrastructure Summit has a new date: Monday, April 30. The daylong forum will address some of the most critical components of our region: Broadband, energy, water, waste management and transportation. The event will take place from 7:30 a.m. to 5 p.m. April 30 at Embassy Suites by Hilton Monterey Bay in Seaside. RSVP now for a day of fascinating panel discussions on the current state of infrastructure needs in Monterey County. Cost is $50 for members, $75 for non-members.
RSVP for Summit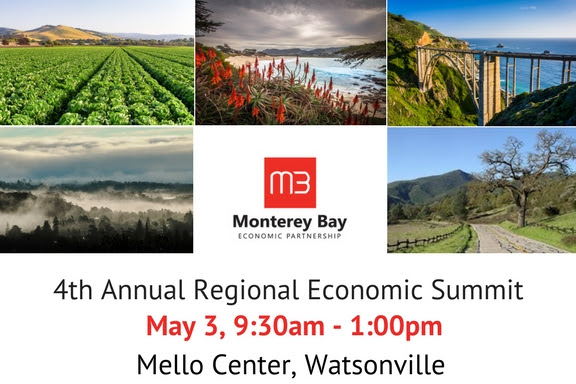 Monterey Bay Economic Partnership (MBEP) is proud to welcome back Dr. Chris Thornberg, Founding Partner of Beacon Economics, LLC, to our Region. He is widely considered to be one of the nation's leading economists and will share his provocative insights on federal, state and local economic trends.

Also joining the summit, Morgan Simon, a nationally renowned leader in impact investment and building community capital. Over the past seventeen years, she has influenced over $150 billion in capital, and has become one of the most respected voices in her field.

MBEP will also be presenting their annual Public-Private Partnership Award given in recognition of an innovative project that demonstrates significant contribution to the well-being of our region. Hurray! Early bird registration ends March 31.
Register Now