Announcements & Events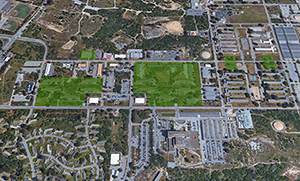 SURPLUS II – NOTICE TO CONTRACTORS – INVITATION TO BID
The Fort Ord Reuse Authority (FORA) will receive Hazardous Material and Building Removal Statements of Qualification (SOQ) and sealed bid proposals (proposals) for 20 buildings located in the area known as Surplus II, bordered by Malmady and 7th Avenue, and Gigling Road and Col. Durham Road in Seaside, California, Project No. S201-ITB2. Estimated work is between $1.5 M and $2.5 M. Access the materials, deadlines for submittals, and more information from the button below.
Invitation to Bid
Eastside Parkway Environmental Review Process
The Fort Ord Reuse Authority (FORA) seeks input on goals and objectives related to the provision of the Eastside Parkway, a roadway intended to be a Southwest-Northeast arterial component of the Fort Ord transportation network.
Access the December 6 workshop presentation and videotaped sessions, the anticipated Eastside Parkway EIR preparation schedule, and other pertinent information related to this process from the button below.
Eastside Parkway

Fort Ord Reuse Authority (FORA) is a regional entity created by State law in 1994 following closure of the former Fort Ord military training base in 1992.  FORA is charged with responsibility to plan, finance, manage and oversee conversion of  the former military land for community reuse.  When established, FORA was envisioned to "sunset" in 20 years under assumptions that certain goals and mandated conditions for reuse were achieved.  Due to significant impacts beyond FORA's direct control, such as an extended national recession, it became clear the originally anticipated goals could not be achieved as scheduled and legislation extended the life of FORA to 2020, again assuming that the mandated and anticipated regional goals could be achieved.  The 2020 extension also required that FORA prepare a formal Transition Plan to assure that on-going legally mandated requirements would continue to be funded and addressed within the region.

2017 FORA Jobs Survey
The 2017 FORA Jobs Survey report summarizes and compares 2015 and 2017 Jobs Survey outcomes as success metrics for Fort Ord Reuse Authority (FORA) economic recovery goals. Primary and secondary research were used including online business searches, email surveys, and in-person/phone communications. The survey area was limited to the former Fort Ord boundary, and reported results include existing and near-term projected full-time (FT) and part-time (PT) positions. Survey results will be incorporated in FORA's Annual Report as directed by the Base Reuse Plan (BRP) Context and Framework (3.11.5.4 (c), pg. 208).
Check back soon for the 2018 Jobs Survey!


Coworking Space Market Feasibility Study
The Fort Ord Reuse Authority (FORA) and the Institute for Innovation and Economic Development (iiED) at California State University Monterey Bay (CSUMB) completed a regional coworking space market feasibility report to better understand local market readiness to support investment in coworking facilities.

Results of this study suggest an unmet demand for new coworking spaces in the study area. Neighboring communities with similar demographics have a proliferation of coworking spaces, while the study area has few. Among other indicators, new community development as part of the civilian reuse of the former Fort Ord continues to gain momentum. Seventy percent of survey respondents in this study indicated a desire to use coworking facilities. These trends indicate an existing current demand and growing future demand for coworking spaces. Early market actors could take advantage of the current market and service provision imbalance.
Download Full Report
Download PowerPoint