Announcements & Events
2018 FORA Jobs Survey
Economic Development staff have recently completed the annual jobs survey on behalf of FORA's member jurisdictions. Annual reporting of jobs trends is a Base Reuse Plan requirement and survey data helps inform FORA Board policy aimed at supporting jobs growth. This has been another successful year in the Monterey Bay region, manifesting increases in full and part-time jobs.

132 employers and 5652 positions were identified within the former Fort Ord boundary, representing a 14% (694 jobs) increase in total jobs since early 2017, with the majority being full-time positions.
NOTICE TO CONTRACTORS – INVITATION TO SUBMIT QUALIFICATIONS FOR HAZARDOUS MATERIAL AND BUILDING REMOVAL
ALERT: Updated materials are now available.
Request for Qualifications

The Fort Ord Reuse Authority (FORA) seeks to prequalify a pool of Hazardous Material and Building Removal Contracting firms (Contractors) from which to solicit bids for the FORA Building Removal Obligations on the former Fort Ord. Firms selected as 'Prequalified' will be given the opportunity to submit bids for Building Removal Projects. Building removal projects may include:
Seaside's Surplus II Hazardous Material and Building Removal.
Marina's Stockade Hazardous Material and Building Removal.
Other Hazardous Material and Building Removal.
Selection will be made on the basis of the application and qualifications as outlined in this request. Please access the webpage linked from the button below for detailed information, a complete schedule of events/deadlines, and attachments.
Infrastructure Summit
DATE CHANGE: APR 30
7:30 AM to 5:00 PM
MCBC's Infrastructure Summit has a new date: Monday, April 30. The daylong forum will address some of the most critical components of our region: Broadband, energy, water, waste management and transportation. The event will take place from 7:30 a.m. to 5 p.m. April 30 at Embassy Suites by Hilton Monterey Bay in Seaside. RSVP now for a day of fascinating panel discussions on the current state of infrastructure needs in Monterey County. Cost is $50 for members, $75 for non-members.
RSVP for Summit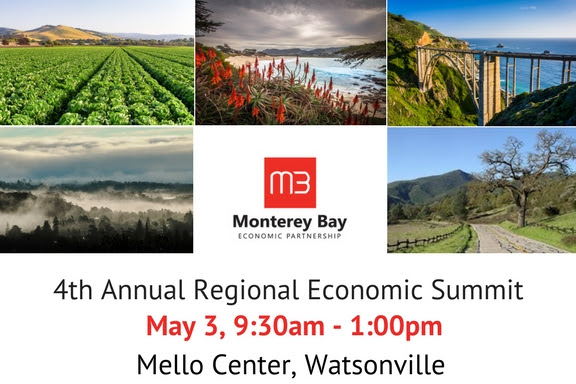 Monterey Bay Economic Partnership (MBEP) is proud to welcome back Dr. Chris Thornberg, Founding Partner of Beacon Economics, LLC, to our Region. He is widely considered to be one of the nation's leading economists and will share his provocative insights on federal, state and local economic trends. Also joining the summit, Morgan Simon, a nationally renowned leader in impact investment and building community capital. Over the past seventeen years, she has influenced over $150 billion in capital, and has become one of the most respected voices in her field.

MBEP will also be presenting their annual Public-Private Partnership Award given in recognition of an innovative project that demonstrates significant contribution to the well-being of our region.
Register Now
INVITATION:
Guided Walks in the Army's Historic Impact Area on May 5, 2018
Here's an opportunity to see the land inside the historic Impact Area of the Fort Ord National Monument. Guided walks are scheduled for May 5, 2018, and hosted by the U.S. Army Fort Ord Base Realignment and Closure (BRAC) office. There will be a choice of a 1-mile walk (an easy walk) or a 3-mile walk (with several grade changes). Participation is limited to 100 individuals. Reservations are required. Go to the Event section at FortOrdCleanup.com for details including driving directions to the departure location and waiver forms (required for all minors). Please plan on a 3-hour event due to the safety briefing and discussion of the Army's cleanup program. This is a free event. Reservations are required: 831-393-1284 or email name of all participants to Melissa.M.Broadston.ctr@mail.mil.

More Info
Southwest-Northeast Arterial Corridor Review Process
The Fort Ord Reuse Authority (FORA) seeks input on goals and objectives related to the provision of a roadway intended to be a Southwest-Northeast arterial corridor component (formerly known as Eastside Parkway) of the Fort Ord transportation network.
Access the December 6 workshop presentation and videotaped sessions, the anticipated EIR preparation schedule, and other pertinent information related to this process from the button below.
Environmental Review Process

Fort Ord Reuse Authority (FORA) is a regional entity created by State law in 1994 following closure of the former Fort Ord military training base in 1992.  FORA is charged with responsibility to plan, finance, manage and oversee conversion of  the former military land for community reuse.  When established, FORA was envisioned to "sunset" in 20 years under assumptions that certain goals and mandated conditions for reuse were achieved.  Due to significant impacts beyond FORA's direct control, such as an extended national recession, it became clear the originally anticipated goals could not be achieved as scheduled and legislation extended the life of FORA to 2020, again assuming that the mandated and anticipated regional goals could be achieved.  The 2020 extension also required that FORA prepare a formal Transition Plan to assure that on-going legally mandated requirements would continue to be funded and addressed within the region.