Announcements & Events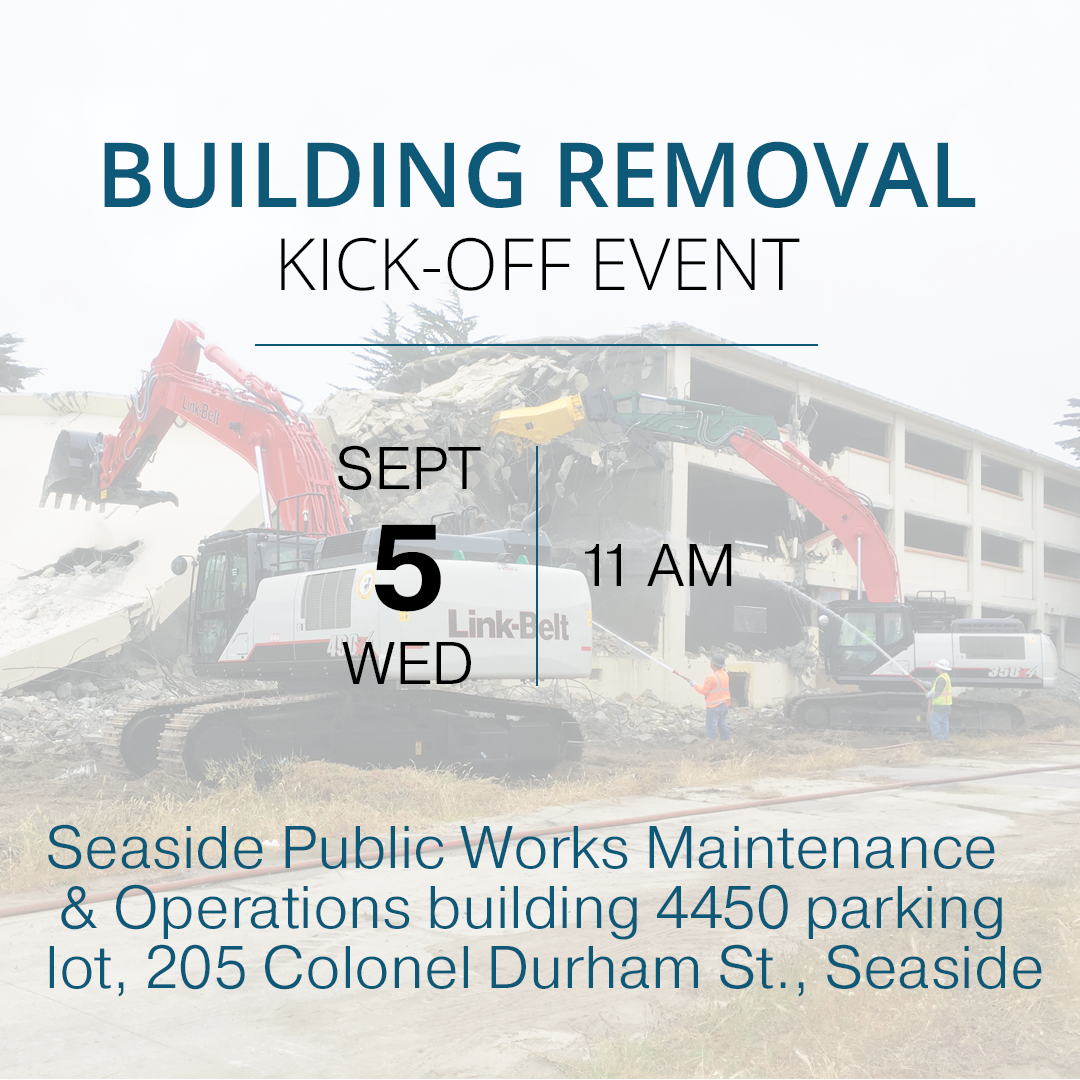 Flyer & Map
Mark Your Calendars!
FRI, AUG 31 | Monterey County Business Council Luncheon
11:30 AM - 1:30 PM | Bayonet & Black Horse
Join us to hear U.S. Representative Jimmy Panetta discuss his bipartisan efforts with the "Problem Solvers Caucus," a group comprised of both Republicans and Democrats, that is gaining traction in Washington D.C. ATTEND THE LUNCHEON


SAT, OCT 20 | 9th ANNUAL HEROES' OPEN | Black Horse Golf Course
This annual benefit golf tournament helps toward the cemetery expansion. For participation and sponsorship info: www.uvc-mc.com/


SAT, OCT 20 | HONOR OUR FALLEN RUN
6th Annual 5k/10k Run to Remember, Fort Ord Dunes State Park, Marina. Volunteers needed: https://goo.gl/TfbrDa Register here: https://goo.gl/m2YU3V
Prescribed Burn Season Starts July 1 with Two Designated Areas on Fort Ord
Two areas totaling about 430 acres are slated for prescribed burns this season, which spans from July 1 to Dec. 31. According to Naval Postgraduate School meteorologists, this year is a normal weather year conducive to conditions for prescribed burns.
Unit 31, a 103-acre area inside the impact area in the southern portion of the munitions response area near Laguna Seca, is ready to go and for now has priority, according to Bill Collins, Base Realignment And Closure environmental coordinator. Unit A, a 324-acre zone in the northern portion of the Fort Ord National Monument, is being prepared and "will become the priority when it is ready," Collins said, probably by September.
2018 FORA Jobs Survey
Economic Development staff have recently completed the annual jobs survey on behalf of FORA's member jurisdictions. Annual reporting of jobs trends is a Base Reuse Plan requirement and survey data helps inform FORA Board policy aimed at supporting jobs growth. This has been another successful year in the Monterey Bay region, manifesting increases in full and part-time jobs.

132 employers and 5652 positions were identified within the former Fort Ord boundary, representing a 14% (694 jobs) increase in total jobs since early 2017, with the majority being full-time positions.
Northeast-Southwest Arterial Connector Review Process
The Fort Ord Reuse Authority (FORA) seeks public input on this review process related to the provision of a roadway intended to be a Northeast-Southwest arterial connector component (formerly known as Eastside Parkway) of the Fort Ord transportation network.
Updated EIR Preparation Schedule:
August 2018 – Distribute Notice of Preparation for 30-day review period
September 2018 – EIR Public Scoping Meeting
December 2018 – Distribute Public Review Draft EIR for 45-day review period
December 2018 – Public Review Draft EIR Public Meeting
July 2019 – Final project approval and EIR certification for Board consideration
Access materials, presentations, videotaped sessions, and other pertinent information related to this process from the button below.
Environmental Review Process

Fort Ord Reuse Authority (FORA) is a regional entity created by State law in 1994 following closure of the former Fort Ord military training base in 1992.  FORA is charged with responsibility to plan, finance, manage and oversee conversion of  the former military land for community reuse.  When established, FORA was envisioned to "sunset" in 20 years under assumptions that certain goals and mandated conditions for reuse were achieved.  Due to significant impacts beyond FORA's direct control, such as an extended national recession, it became clear the originally anticipated goals could not be achieved as scheduled and legislation extended the life of FORA to 2020, again assuming that the mandated and anticipated regional goals could be achieved.  The 2020 extension also required that FORA prepare a formal Transition Plan to assure that on-going legally mandated requirements would continue to be funded and addressed within the region.