Announcements & Events
Economic Development Internship
The Fort Ord Reuse Authority is seeking internship candidates for the coming year as our current intern, Nick Prew, graduated from California State University Monterey Bay this month. Congratulations, Nick!
FORA's Economic Development program focuses on advancing regional economic recovery goals established in the 1997 Base Reuse Plan (BRP). Program strategies include: building on regional economic strengths; engaging regional partners & stakeholders; developing and maintain information resources; pursuing new and retaining existing businesses; and measuring and reporting progress on goals.
More information about the Economic Development program and initiatives can be found here: www.OrdForward.org. To apply for this opportunity please submit cover letter and resume to josh@fora.org no later than 5pm June 8, 2018.
Memorial Day 2018 - California Central Coast Veterans Cemetery
WHEN: MON, MAY 28 @8:00 AM
WHERE: At the flag circle, 2900 Parker Flats Cut Off Rd, Seaside, CA

Join us for the inauguration of a new tradition as we raise the hallowed flag of the Epic Ride for Dignity and Remembrance – which flew over the Tomb of the Unknown Soldier at Arlington National Cemetery – over the final resting place of our beloved veterans here on the Central Coast.
2018 FORA Jobs Survey
Economic Development staff have recently completed the annual jobs survey on behalf of FORA's member jurisdictions. Annual reporting of jobs trends is a Base Reuse Plan requirement and survey data helps inform FORA Board policy aimed at supporting jobs growth. This has been another successful year in the Monterey Bay region, manifesting increases in full and part-time jobs.

132 employers and 5652 positions were identified within the former Fort Ord boundary, representing a 14% (694 jobs) increase in total jobs since early 2017, with the majority being full-time positions.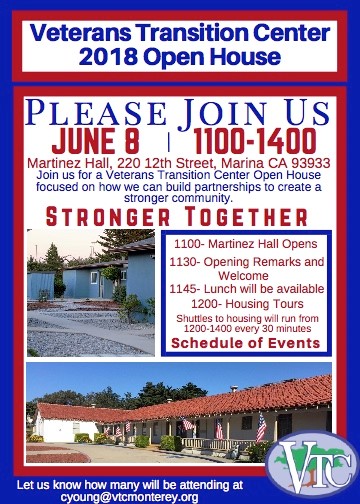 Veterans Transition Center Open House | JUNE 8 @11:00 AM
Come to the Veterans Transition Center Open House and discover how we can build partnerships to create a stronger community: Martinez Hall, Marina. For more info and/or to RSVP your group, please contact cyoung@vtcmonterey.org
NOTICE TO CONTRACTORS – INVITATION TO SUBMIT QUALIFICATIONS FOR HAZARDOUS MATERIAL AND BUILDING REMOVAL
ALERT: Updated materials are now available.
Request for Qualifications

The Fort Ord Reuse Authority (FORA) seeks to prequalify a pool of Hazardous Material and Building Removal Contracting firms (Contractors) from which to solicit bids for the FORA Building Removal Obligations on the former Fort Ord. Firms selected as 'Prequalified' will be given the opportunity to submit bids for Building Removal Projects. Building removal projects may include:
Seaside's Surplus II Hazardous Material and Building Removal.
Marina's Stockade Hazardous Material and Building Removal.
Other Hazardous Material and Building Removal.
Selection will be made on the basis of the application and qualifications as outlined in this request. Please access the webpage linked from the button below for detailed information, a complete schedule of events/deadlines, and attachments.
Northeast-Southwest Arterial Connector Review Process
The Fort Ord Reuse Authority (FORA) seeks public input on this review process related to the provision of a roadway intended to be a Northeast-Southwest arterial connector component (formerly known as Eastside Parkway) of the Fort Ord transportation network.
Updated EIR Preparation Schedule:
May/June 2018 – Distribute Notice of Preparation for 30-day review period
June 2018 – EIR Public Scoping Meeting
December 2018 – Distribute Public Review Draft EIR for 45-day review period
December 2018 – Public Review Draft EIR Public Meeting
July 2019 – Final project approval and EIR certification for Board consideration
Access materials, presentations, videotaped sessions, and other pertinent information related to this process from the button below.
Environmental Review Process

Fort Ord Reuse Authority (FORA) is a regional entity created by State law in 1994 following closure of the former Fort Ord military training base in 1992.  FORA is charged with responsibility to plan, finance, manage and oversee conversion of  the former military land for community reuse.  When established, FORA was envisioned to "sunset" in 20 years under assumptions that certain goals and mandated conditions for reuse were achieved.  Due to significant impacts beyond FORA's direct control, such as an extended national recession, it became clear the originally anticipated goals could not be achieved as scheduled and legislation extended the life of FORA to 2020, again assuming that the mandated and anticipated regional goals could be achieved.  The 2020 extension also required that FORA prepare a formal Transition Plan to assure that on-going legally mandated requirements would continue to be funded and addressed within the region.