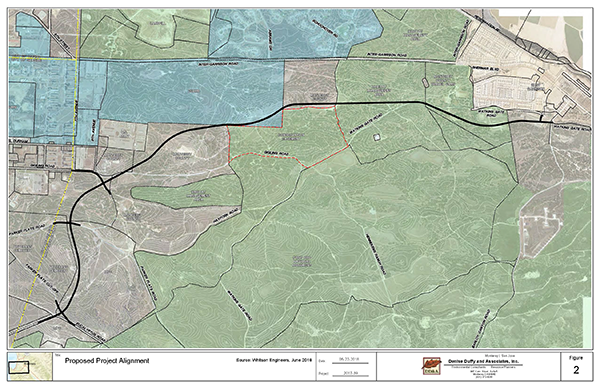 INTRODUCTION
Since the 1997 Base Reuse Plan, a Northeast-Southwest (formerly known as Eastside Parkway) arterial connector (known as Eastside Road) has been part of the Fort Ord transportation network. The roadway was to connect the Monterey Peninsula to the Salinas Valley by traversing the former Fort Ord. It was envisioned to "serve to reduce demand along State Highway 1, 12th Street and the Del Monte/2nd/General Jim Moore Boulevard corridor." (BRP Volume II, pg. 298. See the Objectives of the Regional Transportation Network in section 4.2.2.2, which starts on that page.)
In December 2009, the FORA Board approved the 2009-10 mid-year CIP, prioritizing Eastside Road funding. In 2010, County of Monterey staff suggested changing the roadway name from "Eastside Road" to "Eastside Parkway." In 2012, FORA completed a Draft Preliminary Initial Study Checklist, which included a recommendation to prepare an Environmental Impact Report (EIR) for Eastside Parkway. FORA did not have sufficient dollars at that time to construct the approximately $18 million facility. As development on former Fort Ord has increased its pace, FORA anticipates collecting sufficient funding for this facility in the next few years (see FY 18-19 CIP).
In November 2016, the FORA Board approved contract amendment #3 with Whitson Engineers to proceed with Eastside Parkway environmental review. Subsequently, Whitson Engineers conducted a Request for Proposals for environmental consulting services. In August 2017, Whitson Engineers selected Denise Duffy and Associates to provide these services. As FORA moves ahead with preparation of the EIR, public participation will be important at each step of the process. FORA will present a number of informational briefings to decision-makers and the public. FORA and this team prepared a Community Engagement Plan for the project:
Community Engagement Plan for the Northeast-Southwest Arterial Connector Project (pdf)
FORA has prepared a Notice of Preparation (NOP) for the EIR and is soliciting comments as to the scope and content of the environmental analysis. The NOP contains the project description, location, and the potential environmental effects. Due to time limits mandated by state law, comments must be sent at the earliest possible date but not later than September 25, 2018. See the NOP below. A Preliminary Project Screening Analysis, in the form of a Memorandum and Matrix, is also available to support the NOP (it is a large document so expect a slow download).

NOTICE OF PREPARATION DOCUMENTS
PUBLIC SCOPING MEETING: Pursuant to the public participation goals of the California Environmental Quality Act (CEQA), FORA will host two Scoping Meetings to gather additional input on the content and focus of the environmental analysis to be conducted and presented in the EIR. The EIR Scoping Meetings will also include a charrette portion to solicit input on project design alternatives and additions, and facilitate creative problem solving. The dates, times, and locations of the scoping meetings are listed below.
Date: September 5, 2018
Time: 6:00 pm to 8:30 pm
Location: Monterey County Administrative Office, Monterey Room,168 West Alisal Street, 2nd Floor, Salinas, CA 93901
Date: September 6, 2018
Time: 6:00 pm to 8:30 pm
Location: Community Center at Soper Field, 220 Coe Avenue, Seaside, CA 93955

COMMENTS ON THE SCOPE OF THE EIR: FORA welcomes all comments regarding the potential environmental impacts of the proposed project.
All comments will be considered in the preparation of the EIR.
Written comments must be submitted by September 25, 2018. Please direct your comments to:
Jonathan Brinkmann, Principal Planner, FORA
920 2nd Avenue, Suite A Marina, California 93933
connector@fora.org

UPCOMING EVENTS
The following is the anticipated EIR preparation schedule:



December 6, 2017 – Community Workshop on project goals and objectives PRESENTATION (PDF)
If you did not submit your comments at the Goals and Objectives Community Workshop,
please provide them to this email connector@fora.org or fill out the comment form and mail to
the FORA office: 920 2nd Ave. Suite A, Marina, CA 93933. Deadline is December 22, 2017:


January 12, 2018 – Presentation of project goals and objectives for FORA Board consideration BOARD PACKET (PDF)
August 24, 2018– Distribute Notice of Preparation for 30-day review period
September 5 & 6, 2018 – EIR Public Scoping Meetings SCOPING MEETING POWERPOINT (PDF)


TBD – Distribute Public Review Draft EIR for 45-day review period
TBD – Public Review Draft EIR Public Meeting
TBD – Final project approval and EIR certification for Board consideration