Announcements & Events


FINAL HABITAT CONSERVATION PLAN ENVIRONMENTAL IMPACT REPORT
The Final Habitat Conservation Plan (HCP) Environmental Impact Report (EIR) is now available. Please access the FORA Habitat page for links to all documents: https://fora.org/habitat.html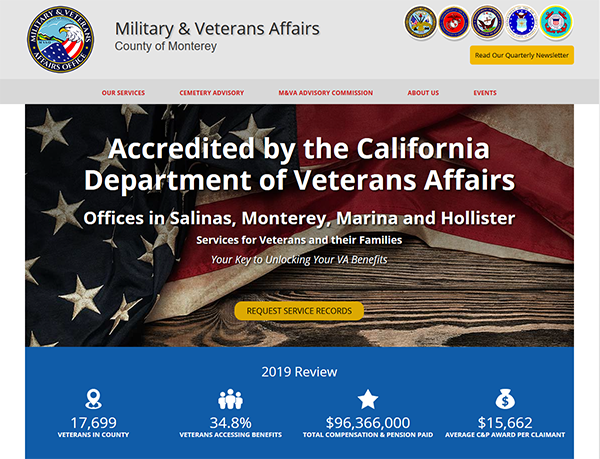 Monterey County Military & Veterans Affairs Office
Announces its improved and updated website!
Their Mission Statement: The Monterey County Military & Veterans Affairs Office (MVAO) provides advocacy, assistance, and services designed to enhance the lives of the County's veterans who served their country in the Armed Forces, their families, and their survivors. We assist in obtaining entitlements and services from the U.S. Department of Veterans Affairs (VA), U.S. Department of Defense, California Department of Veterans Affairs (CDVA), and local programs for eligible veterans and their families.
Monterey County Military & Veterans Affair's employees are dedicated to providing these services in a customer-friendly environment with quality second to none.
Please share and visit the website for the vast range of services, information, and referral information offered. Contact the County Veterans Service Officer Jason Cameron directly: jmurphy@vtcmonterey.org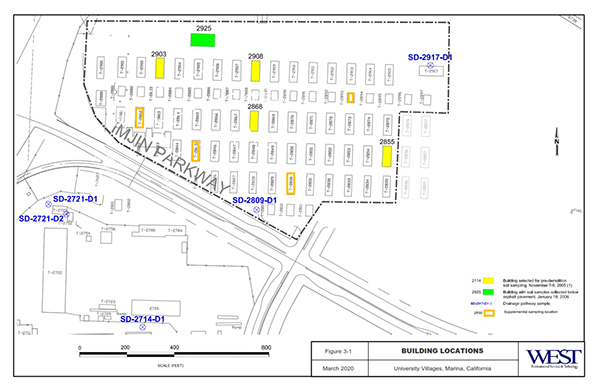 Work Notice for University Villages (posted on behalf of the Calif. Department of Toxic Substances Control)
The following Work Notice has been posted on behalf of the California Department of Toxic Substances Control.
FORMER FORT ORD – UNIVERSITY VILLAGES
WORK BEGINNING: May 4, 2020
The Department of Toxic Substances Control (DTSC) has approved the Removal Action Workplan (RAW) for the former Fort Ord – University Villages Parcel, located in Monterey, California 93923 (Site). The Site encompasses approximately 30 acres of the north portion of the Site. Environmental investigations conducted at the Site in 2005 indicate that near surface soils have been impacted by lead-based paint. Details for the planned activities are provided below. The work will begin on May 4, 2020, and is expected to be completed within 120 days of implementation.
The initial steps for implementation, including identifying underground utilities, will be followed by clearing and digging of the area to remove vegetation. The vegetation will be managed as green waste and will be stockpiled on a portion of the Site outside the work area. The green waste will be managed with other green waste generated during grading activities.
Dust and noise-generating work involving the use of any kind of electric, diesel fuel, or gasoline-powered machine or other power equipment will be limited to the hours of 7:00 a.m. and 5:00 p.m., Monday – Friday. Construction activities will be prohibited on Sundays and federal holidays.
Read More on fortordcleanup.com
Former Fort Ord Army Base Recognized with EPA Superfund Site Reuse Award
April 30, 2020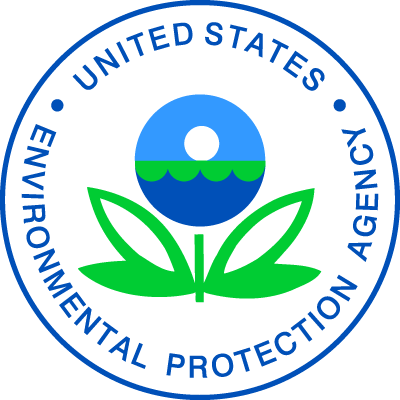 SAN FRANCISCO - Today, the U.S. Environmental Protection Agency (EPA) recognized the former Fort Ord Army Base with a "National Federal Facility Excellence in Site Reuse" award. These awards recognize innovative thinking and cooperation among federal agencies, states, tribes, local partners and developers that has led to noteworthy restoration and reuse of federal facility Superfund sites. "For the past three years, we've shown how federal facility Superfund sites can be transformed into community assets," said EPA Administrator Andrew Wheeler. "I'm proud of the work to address and redevelop these sites." "We are pleased to recognize the dynamic cooperation among the U.S. Army and local partners to clean up this federal facility and return it to productive use," said EPA Regional Administrator John Busterud. "This is a unique Superfund cleanup in that the Army early-on in the process transferred approximately 3,340 acres of the former base to the Fort Ord Reuse Authority to complete the cleanup on behalf of the Army. With a significant federal grant, the Reuse Authority was able to accelerate the pace of cleanup, allowing this part of the site to be made available for public reuse sooner than would have been otherwise possible."
Full EPA Announcement →
FORA Media Release→
Due to current health and safety conditions we have implemented a remote meeting participation protocol. Please help reduce the spread of COVID-19 by participation via remote meeting option ONLY. PUBLIC COMMENT: The general public is welcome to provide comment at any time for all board and committee meetings to: board@fora.org Please state which board or committee meeting your comments are directed to in your subject line.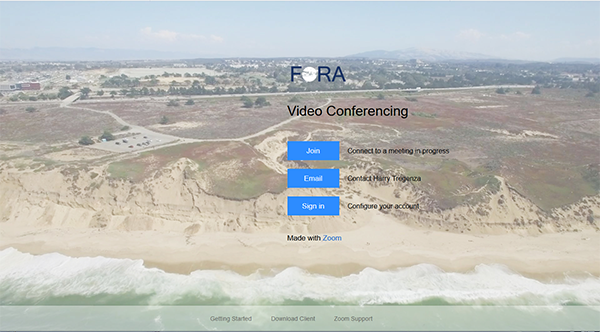 Remote Meetings Protocol & Best Practices
COVID-19 Information Resources
While we all are enduring these unprecedented times, access to quality, timely information is critical. We hope the links below provide key information for the public, businesses, and agencies as we weather the storm together #StaySafeStayHome #SocialDistancing
Do:
Stay home
Wash hands with soap and water for at least 20 seconds
Cover your cough or sneeze with a tissue
Clean and disinfect frequently touched objects and surfaces
If soap and water aren't available, use alcohol-based hand sanitizer
Wear a mask in public spaces
Don't:
Shake hands
Touch your face
Go to the doctor if you aren't sick
Stockpile masks or gloves
S202-RFP1 Stockade Hazardous Materials and Building Removal
March 19, 2020 - The Fort Ord Reuse Authority (FORA) on December 11, 2019 issued a Notice of Intent to Award for the S202-RFP1 Stockade Hazardous Materials and Building Removal Project ("the Project'). FORA did not thereafter proceed with an actual award of a contract on the Project. Notwithstanding the foregoing, and in accordance with the procedures and powers stated in the bid documents, FORA has determined in its discretion that it is in the best interests of the Project and in the public interest to reject all bids. All bids on the Project are hereby rejected and FORA closes the bidding and award process for the Project until further notice.
3/19/2020 REJECTION OF ALL BIDS - CLICK THIS BOX FOR LETTER
Stockade Hazardous Materials & Building Removal

Online Symposium: Innovation & Recovery
October 19-23, 2020
The 2nd Annual Monterey Bay Drone, Automation & Robotics Technology (DART) Symposium will be held at Online during the week of Oct 19-23, 2020. The Symposium will feature a week of compelling talks, workshops, networking and inspiration. This world-class event will build on the momentum generated at the first Symposium, highlight cutting edge technologies being used and developed to address some of our greatest challenges, and place a hard focus on economic recovery from the COVID-19 driven economic downturn  . The Symposium will feature leading edge innovators, university researchers, entrepreneurs, investors and growth companies active in and around the Monterey Bay region developing and deploying solutions in human mobility, public safety, homeland security, national defense, agriculture and natural resource management, marine science and conservation.  Please email any suggestions or focus topics of interest to hello@montereybaydart.org. We'll be updating this list regularly, as well as the DART website: https://montereybaydart.org/
Sponsor & Exhibit Opportunities