Announcements & Events
PUBLIC FORUM: MEET THE CITY STAFF | Tuesday, April 23 | 6:30PM to 8:30PM |City Council Chambers, Marina
Hosted by Marina in Motion, presentation and discussion from major department members, such as Police, Fire, Public Works, etc. This is a public opportunity to ask staff questions in a less formal environment about policy, process, challenges, and priorities.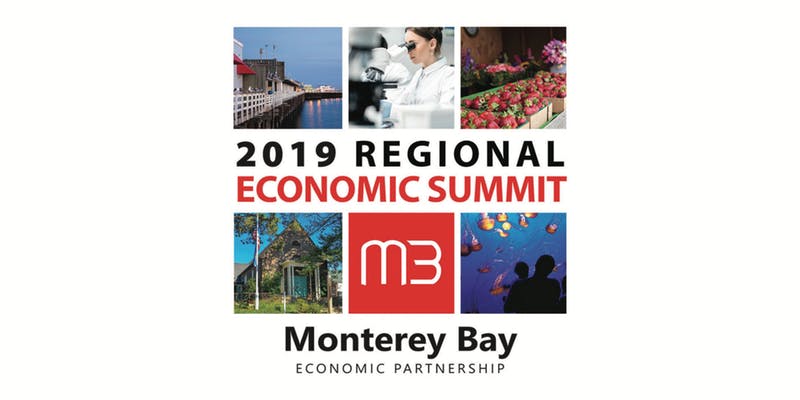 2019 Regional Economic Summit - May 2 | 9:00 AM - 1:00 PM
Bringing its multi-sectoral network of members and partners together, MBEP is hosting its 5th Annual Regional Economic Summit on May 2, 2019, at the newly renovated Monterey Conference Center. Join 400+ leaders from across the tri-county region and beyond as we learn about important economic trends and compelling ways to grow and "recession-proof" your organization.
Bruce Katz, Brookings Institute scholar, senior advisor to global leaders, and author will be our keynote presenter this year followed by a CEO Panel moderated by Lenny Mendonca, Governor Newsom's Chief Economic and Business Advisor and Director of the Office of Business and Economic Development (GO-Biz).
Hurry! Early Bird tickets on sale through March 31st.
12th Annual Veterans Appreciation Conference
MAY 8, 2019 | 8:30 AM TO 3:30 PM | AMERICA'S JOB CENTER | 730 LA GUARDIA STREET | SALINAS, CA 94905
You are invited to attend a recognition and information event honoring our active duty servicemen, women, and veterans.
Featuring dedication, special guests, color guard, reception, and information about veteran programs and services. Open to all job seekers!
For additional information, please call: Manny Palacio, Jr. at (831) 796-3618.
2019 Military Retiree Appreciation Day
JUNE 8, 2019 | 8:00 AM TO 12:30 PM | GENERAL STILLWELL COMMUNITY CENTER | 4260 GIGLING ROAD, SEASIDE, CA 93955
Guest Speakers: Congressman Jimmy Panetta, U.S. House of Representatives and Mr. Thomas J. Fitzgerald, Director, VA Palo Alto.
All military retirees, dependents, and surviving family members are invited. Come out and join us! There will be information tables, raffles, burgers, dogs, snacks, coffee, and more. 
For additional information, please contact Presidio of Monterey Retirement Services Office (831) 242-4986 or usarmy.pomrso@mail.mil.
Fort Ord Cleanup Community Outreach Events
SAT, MAY 4, 2019 | Impact Area Guided Walking Tour
SAT, JULY 13, 2019 | Impact Area Bus Tour
For more information, visit the Fort Ord Cleanup website: www.FortOrdCleanup.com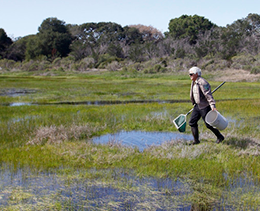 Scientists study Fort Ord to preserve plants and animals
FORT ORD >> After this rainy winter, Machine Gun Lake in the Fort Ord National Monument is brimming with water. But, come summer, the lake will look like a grassy field. Machine Gun Lake is the largest of approximately 45 vernal pools tucked between the rolling hills of Fort Ord National Monument. Vernal pools are seasonal wetlands: they fill with water every winter and dry up in summer. "But they're not just puddles," said Nancy Emery, an ecologist from the University of Colorado, Boulder who does field work in Fort Ord's vernal pools. These placid pools are teeming with life, including endangered and threatened species like the Contra Costa goldfield flower and the California tiger salamander. Vernal pools are a rare sight, as 91 percent of California's wetlands have been destroyed according to the U.S. Geological Survey. Bruce Delgado, botanist with the Bureau of Land Management, holds a chorus frog from Ostracod Pond on Fort Ord on Wednesday. (Vern Fisher – Monterey Herald) Plants and animals living in coastal wetlands like the same thing as commercial developers: large, flat spaces along the California coast.
Northeast-Southwest Arterial Connector Review Process
The Fort Ord Reuse Authority (FORA) seeks public input on this review process related to the provision of a roadway intended to be a Northeast-Southwest arterial connector component (formerly known as Eastside Parkway) of the Fort Ord transportation network.
EIR Preparation Schedule UPDATE:
October 2019 – Distribute Public Review Draft EIR for 45-day review period
TBD – Public Review Draft EIR Public Meeting
TBD – Final project approval and EIR certification for Board consideration
Access the Notice of Preparation documents, materials, presentations, videotaped sessions, and other pertinent information related to this process from the button below.
Environmental Review Process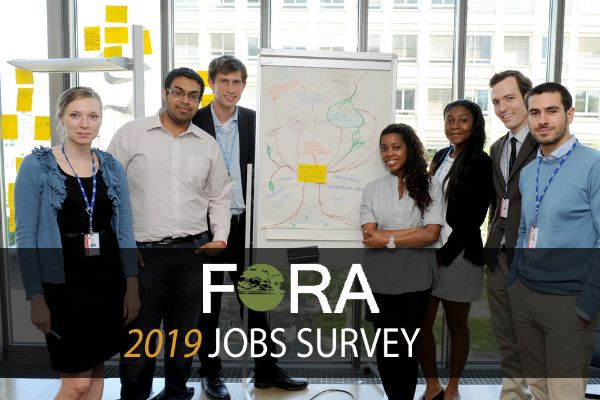 2019 Jobs Survey REMINDER!
Important reminder! The Fort Ord Reuse Authority (FORA) is performing this annual jobs survey on behalf of its member jurisdictions, monitoring regional economic recovery from the 1994 Fort Ord base closure. This survey data helps measure economic recovery progress in the Monterey Bay region.
If you haven't taken the survey yet, please make sure to click the button below. The survey should take 3-5 minutes and asks questions regarding the number of employees at your location. We appreciate your valuable time, thank you!
If you have any questions or concerns, please contact Justine Ramirez via email or phone: Justine@fora.org, (831) 883-3672

View 2018 jobs survey results.

FORA 2018 Transition Plan
Fort Ord Reuse Authority (FORA) is a regional entity created by State law in 1994 following closure of the former Fort Ord military training base in 1992.  FORA is charged with responsibility to plan, finance, manage and oversee conversion of  the former military land for community reuse.  When established, FORA was envisioned to "sunset" in 20 years under assumptions that certain goals and mandated conditions for reuse were achieved.  Due to significant impacts beyond FORA's direct control, such as an extended national recession, it became clear the originally anticipated goals could not be achieved as scheduled and legislation extended the life of FORA to 2020, again assuming that the mandated and anticipated regional goals could be achieved.  The 2020 extension also required that FORA prepare a formal Transition Plan to assure that on-going legally mandated requirements would continue to be funded and addressed within the region.  That plan (2018 Transition Plan) was approved by the FORA board at the December 19, 2018, special meeting: FORA Resolution 18-11